Patient Information
We are here to make the appointment, diagnosis, and treatment process as stress free as possible. Here, you will find all the important forms and information you will need. Please call our office if you cannot find what you need here.
Options
Accepted Payment Options
Georgia Foothills Hand Surgery  accepts a variety of insurance types and plans. We are also an in-network provider for many common insurance companies in the State of Georgia.
Always be sure to verify coverage. Here are some of the insurers that we accept:
Aetna
Medicare/Medicaid
Humana
Coventry
CIGNA
United Healthcare
Corecare
Blue Cross Blue Shield
Tricare
And More
Our office staff always tries to work with patients to ensure that they can afford treatment for their conditions. Options include various insurance plans or paying with a variety of payment forms.
Please contact our office with any questions.
Cash
Money Order
Credit

Visa
MasterCard
Discover
American Express
In some cases, referrals from your primary care physician may be required by your insurance company. These are your responsibility.
We accept Medicare, Medicaid, Tricare and most managed care plans.  If your plan requires referral authorization for a specialist, please ensure that authorization is obtained from your primary care provider prior to your office visit. Bring any paperwork you may have as well additional forms with you to your scheduled appointment along with your insurance card(s) and a valid form of identification
Contact our office if you have any questions about referrals.
Additional Information
Patient Policies
Patient Information
Forms
We recommend that our patients complete these forms before their first appointment. These forms need to be printed and completed in pen. Please DO NOT use Wite-Out® or other correction fluids/tapes on the forms; we cannot accept them if you do. The completed form should be faxed to our office at (706) 946-7305 prior to your appointment, or you may bring it with you to the appointment.
Why Visit A Hand Surgeon?
The hand is a unique area of the human body that is made up of bone, joints, ligaments, tendons, muscles, nerves, skin, and blood vessels. These elements must all be in good working order for the hand to function well.  The relationship between all these structures is delicate and refined. An injury or disease can affect any or all of these structures and impair the use of the hand. Hand specialists have received additional specialized training in the treatment of hand problems beyond their board certified specialty training in orthopaedic surgery, plastic surgery, or general surgery. To become a member of the American Society for Surgery of the Hand, a full year of such additional training is required, as is the passage of a rigorous certifying examination.
Many hand specialists also have expertise with problems of the elbow, arm, and shoulder. Some treat only children, some treat only adults, and some treat both. Common problems treated include:
carpal tunnel syndrome
tennis elbow
wrist pain
sports injuries of the hand and wrist
fractures of the hand, wrist, and forearm
trigger finger
What Is Hand Therapy?
Hand therapy is the art and science of evaluating and treating injuries and conditions of the upper extremity (shoulder, arm, elbow, forearm, wrist and hand). It uses a number of therapeutic interventions to help return a person to their highest level of function. It evolved from the need for a specialist with the knowledge and experience required to manage the challenging recovery of complex hand and upper extremity injuries.
A hand therapist is an occupational or physical therapist who, through advanced continuing education, clinical experience and integration of knowledge in anatomy, physiology and kinesiology, has become proficient in treatment of pathological upper extremity conditions resulting from trauma, disease, congenital or acquired deformity. A hand therapist may achieve advanced certification as a certified hand therapist (CHT). To obtain the CHT credential, a therapist must practice for a minimum of five years, accumulating at least 4,000 hours of treatment for hand and upper extremity disorders. Certified hand therapists must also pass a rigorous certification exam to demonstrate their competency in the practice.
Hand Safety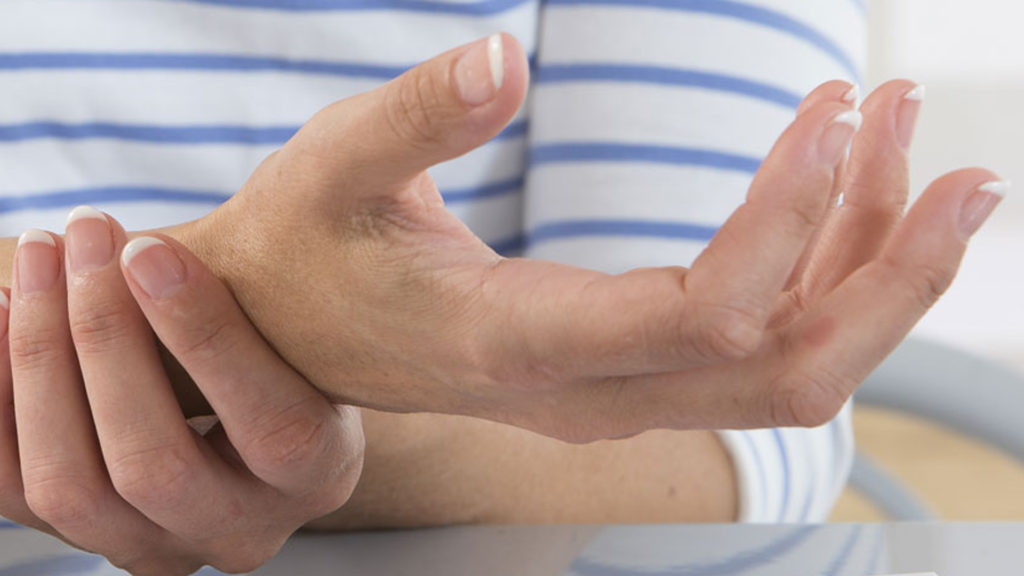 Work-related strain or other repetitive injuries can result in reduced productivity and increased costs. Just as machines need preventive maintenance to operate at full capacity, physical job duties must be evaluated to prevent injuries and ensure your staff is performing optimally. The American Society of Hand Therapists (ASHT) offers the following tips to help prevent strain and repetitive injuries in your facility.
Arrange for a local therapist to make a site visit to assess your work settings. The therapist can help to identify high-risk areas and recommend alternate configurations to reduce employee risk.



Sometimes different tools are needed. If workers themselves start to add padding or modify how they are doing something, then the tools being used should be re-evaluated for their effectiveness.

Take 30-second breaks every 30 minutes when performing repetitive activities. Use this time to stretch the muscles in the opposite direction from your working pattern.

If possible, break up your day with different activities to avoid over-repetition with one activity.


If you do injure yourself in the area from your hand to your shoulder, be sure you see a medical doctor who specializes in this area and get proper treatment. A small injury to the hand or arm can become a serious long-term disability if neglected.
Hand Anatomy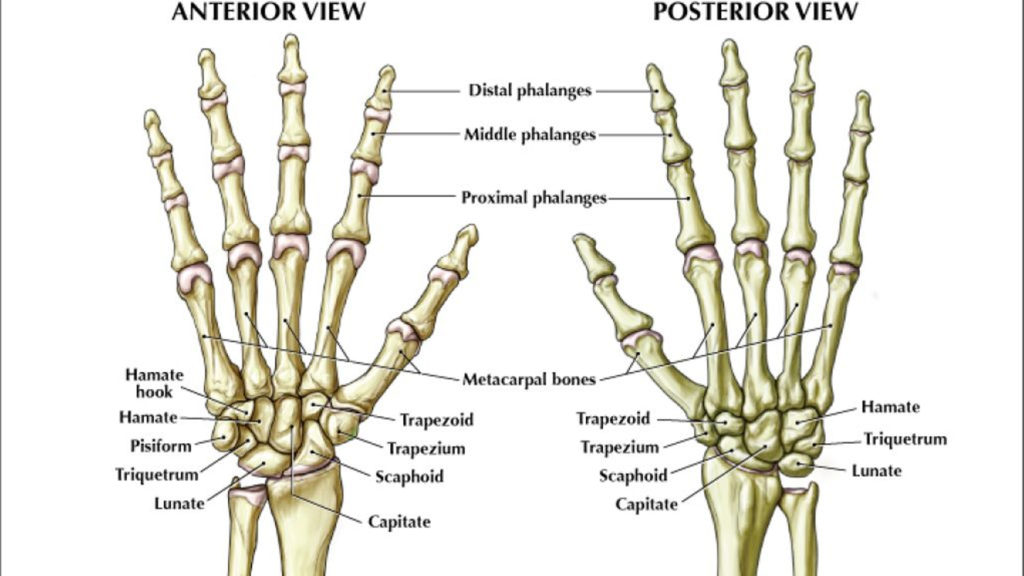 The anatomy of the hand is complex, intricate, and fascinating. Its integrity is absolutely essential for our everyday functional living. Our hands may be affected by many disorders, most commonly traumatic injury. For any physician or therapist treating hand problems, the mastery of such anatomy is fundamental in order to provide the best quality of care.
A total of 27 bones constitute the basic skeleton of the wrist and hand. The hand is innervated by 3 nerves — the median, ulnar, and radial nerves — each of which has sensory and motor components. The muscles of the hand are divided into intrinsic and extrinsic groups.
The hand contains 5 metacarpal bones. Each metacarpal is characterized as having a base, a shaft, a neck, and a head. The first metacarpal bone (thumb) is the shortest and most mobile. It articulates proximally with the trapezium. The other 4 metacarpals articulate with the trapezoid, capitate, and hamate at the base. Each metacarpal head articulates distally with the proximal phalanges of each digit.
The hand contains 14 phalanges. Each digit contains 3 phalanges (proximal, middle, and distal), except for the thumb, which only has 2 phalanges. To avoid confusion, each digit is referred to by its name (thumb, index, long, ring, and small) rather than by number.
Compassionate Care, State Of The Art Medicine.